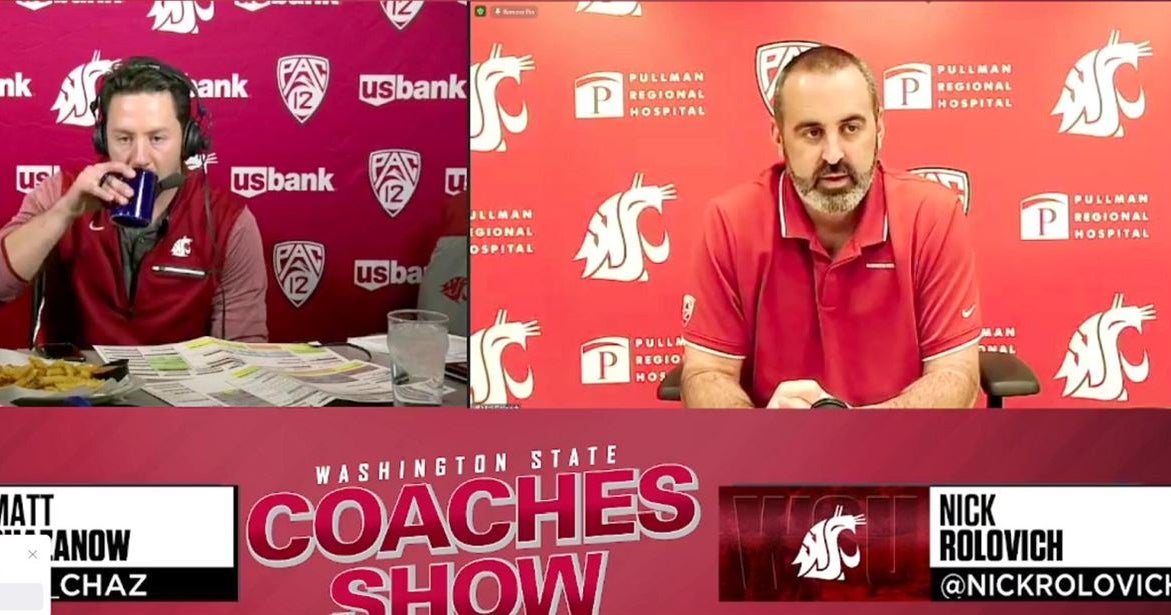 Chau Smith-Wade displays bad speed figures
[ad_1]
PULLMAN – Washington state assistant coach Richard Guarascio says second-year Cougar cornerback Chau Smith-Wade put up some fantastic speed figures on the Catapult GPS motion measurement system compared to last week. So what was his top speed?
Last spring, WSU joined countries like Alabama, Georgia, and Notre Dame to implement tracking technology into its program.
"A guy like Chau, he flies in special teams," Guarascio said on Nick rolovitchCoaches radio show with Matt Chazanow. "That last game, his high speed numbers were crazy. He hit 20 miles an hour, his yardage total was one of the highest we've seen this year.
To get an idea of ​​how fast 20mph is while wearing a football uniform, protections, and avoiding bodies flying all around, consider Olympic sprinters in shorts and running in a straight line unimpeded on a track are generally in the range 24-25.
Rolovich added: "What you can tell is this is a high level effort (from Smith-Wade)," Rolovich said. "When he's on the pitch he plays hard and he works hard for his teammates."
As a high school student, Smith-Wade was named to the Chicago Public School First Team for Running Back and All-State Honorable Mention for Defensive Back.
Regarding his own speed, Rolovich joked that he would need a 22-meter lead to beat his very fit cornerback coach John Richardson in the 100.
IN RESPONSE TO AN APPELLANT'S QUESTION, Rolovich said his favorite attack outside of Run 'n' Shoot is the triple option. He added that it's difficult to defend and can cause stress on opposing defenses (as the Cougars discovered against Air Force during the 2019 Cheez-It Bowl).
WSU ran the triple option under coach Jim sweeney in the early 1970s and did it almost perfectly in 1972 with offensive linemen from all conferences Bill Moos and Steve Ostermann clear the way for the quarterback Ty paine and the ball carriers Ken grandberry and Steve hamilton. The Cougs finished this season 17th overall in the country.
REGARDING BACK TO SCHOOL ON SATURDAY game with Oregon State (1 p.m. / Pac-12 Network), Rolovich the Cougs enter the scene with the wind in their sails after last week's 21-6 win over Cal. He said he was not sure he had ever been around a 2-3 team that had such an important win. "It really showed their commitment to each other," he said.
Rolovich said Oregon State quarterback Chance Nolan was better than most and very confident in handling the Beavers' program. Nolan knows he has good pieces around him like enduring running back BJ Baylor, Rolovich said. He added of Nolan, "the kid plays enough games to scare you in different ways."
Rolovich also said the state of Oregon has some tricks up its sleeve and the Cougars need to prepare for the unexpected with every game.
SIXTH YEAR WSU OFFENSIVE LINE ASSISTANT Liam ryan, who was joined by a third-year teammate Ma'ake Fifita in the last 20 minutes of the coach's show, triggered a background information about himself.
He was not only a soccer player at his home in Chino Hills, Calif., But also a basketball player – and he faced off early and often with the Ball brothers – Lonzo, LiAngelo and LaMelo – as well as the former WSU hoop keeper Milan Acquaah. They grew up in the same neighborhood. As a junior, the 6-5 Ryan helped lead Damien High to the Division III State Championship.
The Ball brothers' father, Lorenzo, played a season of hoops at the WSU (1987-88) and also spent two very entertaining weeks with the WSU football team which you can read here.
Ryan, who now registers at 293 pounds, joked that the offensive line doesn't do a lot of cardio outside of football and their favorite activity is eating. But he compared his troops to the fast guys in high school. As an o-linemen, like a DB, he said, "You have to go back, you have to stop someone from where they're going and you have to read several different people."
Fifita praised Ryan's leadership and said the young men on the team "admire Liam and Abe Lucas".
Prior to being the Cougars' starting left tackle, Ryan was a guard and remembers he and his then roommate Josh Watson had a long battle in their early years at left guard. It made things a little awkward at home, he said, but it all worked out: Ryan started every game at left guard for the Cougs' 11 wins of 2018, while Watson started every game. match at the right guard.
Watson took advantage of a sixth year of eligibility to pursue a career in firefighting.
NOTABLE NOTES:

Fifita's brother Mosese is an Air Force defensive lineman and Fifita said they still play backyard football even though they never got to play together during high school in Glacier Peak in Everett. Mosese is also the first player in Air Force history to exceed 300 pounds.
Rolovich said the best dip for chicken nuggets is ketchup. He also poked fun at host Matt Chazanow who said his favorite was honey, telling him he shouldn't say it publicly.
Rolovich also said that the purple Gatorade is his favorite and that he hasn't been on Netflix for a long time but loves the Yellowstone show (Peacock / Paramount +).
As a Chino Hills product, Ryan is also a proud fan of the LA Dodgers. Along with fellow Southern California compatriots Brian Smith (WSU offensive coordinator) and Bobby Alworth (deputy director of sports communications), he was "holding on" for the guys in blue for the next historic playoff series with San Francisco facing Rolovich and Bill Stevens, director of sports communications for WSU, who are big fans of the Giants.
You can watch the coach's entire show HERE.
[ad_2]