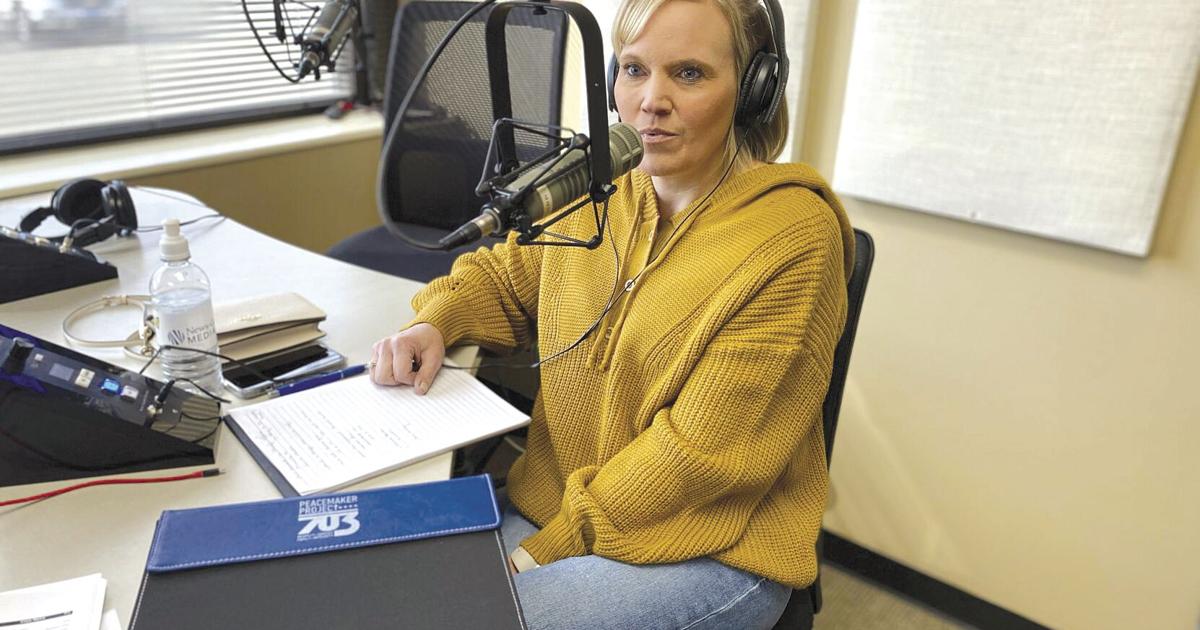 Oberheim touts police funding bill on radio show | News
CHAMPAIGN — When she joined State Sen. Chapin Rose and others in October in Springfield to urge lawmakers to back a police defunding bill, Amber Oberheim didn't feel heard.
So when she returned to the State Capitol recently, this time she was accompanied by three women who shared her heartache. All lost their police officer husbands last year, among 11 such tragedies statewide.
"We had a great conversation" with lawmakers, said the mother of four from Monticello, whose late husband, Champaign police officer Chris Oberheim, was killed while responding to a domestic disturbance call. on May 19 at the Town Center Apartments. "Our legislators are on spring break this week, but they will be back in session for the next three weeks, so I'm cautiously optimistic and eager to see what happens, to see action, because words won't get us there. I'm watching with eagle eyes to see what happens in the next three weeks.
Oberheim, who in recent months has started a nonprofit organization (Peacemaker Project 703) and is writing a book (working title: "7 1/2 Seconds"), joined Brian Barnhart on March 16 on WDWS 1400-AM/93.9 -FM as part of The News-Gazette continues the "Community Conversation on Gun Violence".
Here are excerpts from their conversation, which can be heard in full on news-gazette.com.
Last month, following a shooting in their neighborhood, Albert and Claudia Morr expressed their concerns at a town council meeting and were told by Alicia Beck: 'Until you come in because someone else's neighborhood gets shot, I don't want to hear that.' It prompted this question from a listener on Wednesday: What has the council done — and hasn't done — to support Champaign police, and is Champaign County being too soft on crime? "I am not a Champaign resident, but I have a vested interest in the Champaign community because it is the community and it is the people my husband has protected and served for 13 of his 20 years of career in law enforcement, and it was on these streets that my husband died.
"And for that reason, I have a vested interest in what happens here, especially for his siblings in uniform who continue to do the job without him.
"So let's talk about the answers to this question. First of all, I would say that I have seen some improvement as far as the Champaign City Council is concerned in what they are doing to help our police department.
"First, they managed to institute a recruiting incentive, and I think that, little by little, that is helping. They successfully negotiated with the police union, the Fraternal Order of Police, for some retention incentives. And when the police department asked for license plate readers, they approved.
"And so, I recognize that there are things that have happened that have been small steps in the right direction.
"However, when I see a family like the Morr family who have gone more or less into a town council meeting and explained their perspective and their life experience and how they lived in that community all his life, for decades, and they've never had to deal with the reality of bullets coming through their living room window, and they're received the way they've been received, it makes me sick.
"This is, to me, from my humble perspective, the fundamental philosophical problem as to why Champaign does not manage public safety the way it should be managed. The people of this community deserve better than what has been shown by their city council.
"If I was a leader in this community, you would hear me after every incident. I can't imagine not being present and vocal and saying, 'Not here. It's not happening here.
"Not only would you hear me, but I would expect you to feel the response quickly and effectively. That's what (Champaign) lacks… just presence and response. It was lacking. And that's disappointing, because every person in Champaign County, their life is precious. You can't just ignore what's going on and say, "Oh, well, that's just the norm across the country." This is happening in other communities. This is crap, Brian. It's not good. Not in my community.
"And so, I think until the people – and when I say people, it's really the residents of Champaign County and the voters and the people who vote for community leaders – decide enough is enough, they don't do that anymore, they'll start researching and investing in who they elect and vote to be their voice… not much will change.
"If you are a Champaign County resident and want to see things change, this is what I recommend you do. Find out. Find out what happens at these city council meetings.
"One thing I've heard a few times is that it takes time, it's a process. And I'm going to call BS on that one too, because if you want something bad enough – if it's important enough to you – you'll get it.
"It's like one of my daughters, who wanted a $400 softball bat. "Well, I don't have any money. I don't have a job. How am I going to do this?' Well, I don't know. You want it enough, you will understand. Law? It's the same on a larger scale – "well, we don't have the money, we don't have the funding, we don't know how to do this, we don't have the staff". OK, if you want it bad enough, you'll get it. So I say, get on with it.
An African-American caller named John called Wednesday to thank Oberheim for her husband's sacrifice, noting that the night he was killed the officer was responding to a call for help from a black mother.
"Amen, John. …It's not a black and white thing. There were assumptions and inferences that were made based on my comments at my husband's funeral, and people wanted to believe I was a racist, and I'm not. This thing is so much bigger than that.
"I just want to address this because my heart swelled with this call from John. I could hear the love and thanks in his voice, and so John, thank you very much.
"Just know that I think God is going to use this experience in our lives — and when I say "our," it's not just the Oberheim family, the Oberheim girls; it's really affected everyone – to bring people together, because one thing that I've realized from having difficult conversations with people over the last 10 months is that we have more in common than we are different.
After "closed door" conversations with lawmakers on both sides of the aisle last week in Springfield, Oberheim hopes they will act on GOP-sponsored bills supporting law enforcement.
"Senate Bill 4155 provides $125 million a year to local governments for hiring, rehiring, retention, funding mandatory training, providing equipment and mental health support.
"Senate Bill 4152 requires defendants who commit grievous bodily harm against a police officer or who bring a weapon or contraband into a correctional facility to serve at least 85 percent of their sentence. That would mean they wouldn't hit that 50% mark and couldn't be released.
"This is not only about supporting and funding our police services, but also about holding criminals accountable. And I can't say it loud enough or repeat it enough: the question of responsibility is, for me, paramount, because the man who killed my husband, it was not his first offense, his second offense, his third offense, and you don't see career criminals having lesser offenses as their laundry list goes on. They'll graduate to the point where they end up murdering someone, and there's no reason for that to happen.
"So if we can start to hold the people who commit these heinous crimes to account, then I think a lot of our crime issues will improve. Because they won't be on the street.