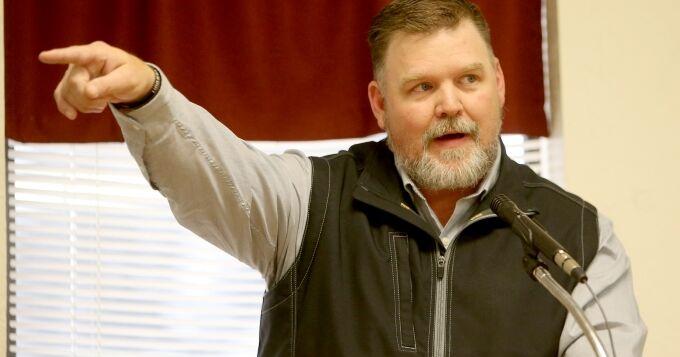 Radio show host says councilman accosted son over father's comments | Local News
During public comments from the Jasper City Council meeting on Monday, a local radio show host addressed the council and alleged that Jasper Councilman David Shultz had recently verbally accosted his son.
Jay Sharp, who is not a KJAS employee but instead hosts a paid show "Not On The Payroll" on Thursday nights on KJAS, says the incident happened after he commented on the show regarding Shultz and fellow Council members Michael Daniel and Laura Golden with Mayor Randy Sayers. Sharp was commenting on the fact that Shultz, Daniel, Golden and Sayers failed to show up at a recent special meeting called for citizens to ask questions and voice concerns about the city's proposed broadband network. The only two council members present were Anderson Land and DeMarcus Holmes.
In his comments to the Council on Monday night, Sharp said of Shultz "…you decided to go down to my son's place of work, approach him – a child – by going behind the counter, cornering him and confronting him with things I said on a radio show. Everyone knows that's cowardice. I don't need to throw a stone, everyone here would agree, go to the son rather than come to me, a grown man. It is cowardice.
KJAS News reached out to David Shultz on Tuesday to offer him a chance to respond. Shultz said: "I heard what he (Sharp) was saying but I didn't get it all but whatever he said I mean you can report or do whatever you need or whatever you're going to do. "
A second time we explained to Shultz that we were giving him the opportunity to comment on Jay Sharp's accusations, to which he replied "I never went there every time they were visiting in the evening, whatever program, and I'm just going to stay out of it.
A third and final time, we explained to Shultz that we were offering him a chance to respond to accusations made by Jay Sharp regarding his alleged interaction with his son at his workplace. Shultz said "I didn't jump on anybody, I didn't jump on anybody, but anyway, it doesn't matter."
We then asked Shultz very pointedly, "Did you talk to him verbally?" and Shultz replied, "Did I talk to him? I didn't know it was his father. That's what I told him, 'I didn't know that was your dad,' I didn't know who Jay Sharp was, I didn't even know where he lived."