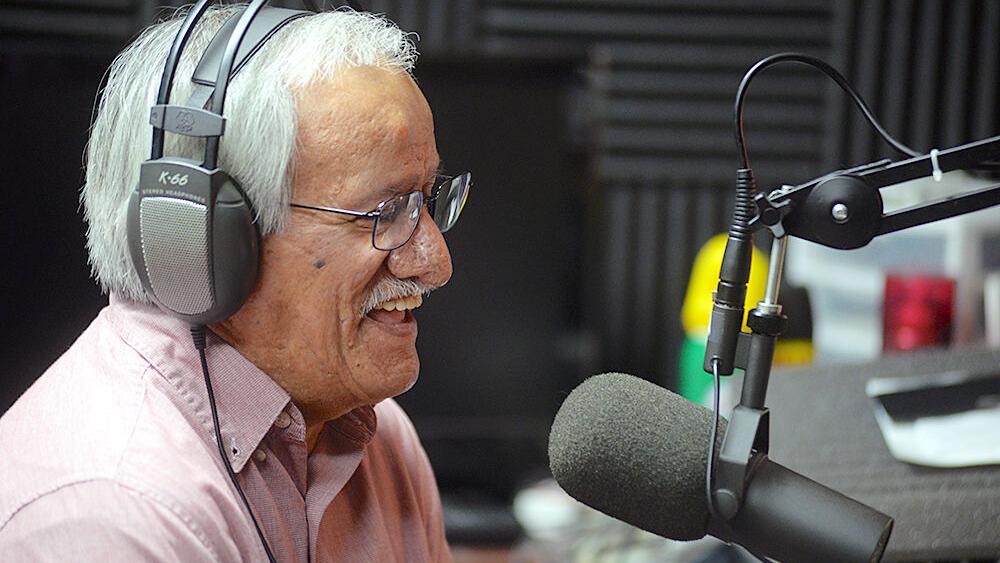 Sixkiller Records 1000th Episode of Cherokee Radio Show | Tongue
[ad_1]
TAHLEQUAH – Every week for the past 17 years, radio show host Dennis Sixkiller has shared the Cherokee language with listeners through songs and stories.
Sixkiller, 67, Cherokee Nation translation specialist and Cherokee National Treasure, recently hosted the 1,000th episode of the tribe's "Cherokee Voices, Cherokee Sounds" show.
"I got calls from all over America and they love it and I love producing it," he said. "It's really a lot of fun. You know, I never dreamed that I would be doing this for so long, doing 1,000 programs.
Broadcast primarily in the Cherokee language, this weekly hour-long radio show features traditional songs, language lessons, news and stories.
"The songs are in Cherokee," Sixkiller said. "There are traditional stories that people like. Even little kids, they tell me, 'I listen to your program and I love stories.' "
The program also features interviews with Cherokee Elders, who have been dear to Sixkiller's heart over the years.
"From these elders, I learned so much," he said. "I have met so many wonderful people. Unfortunately, many of them have passed away since I started the program.
Sixkiller, a native speaker, took over from original host David Scott in 2004, extended the show's length to 30 minutes and added more variety. Senior Chef Chuck Hoskin Jr. said Sixkiller "has become one of our most respected and impactful Cherokee speakers."
"Deputy Conductor Bryan Warner and I were lucky enough to catch up with Dennis as he recently filmed his 1,000th episode of 'Cherokee Voices, Cherokee Sounds'," Hoskin said. "This programming occupies such a prominent place on the Cherokee Nation Reservation, reaching countless listeners every week on several radio stations and now also via online streaming. As for host Dennis Sixkiller himself, he epitomizes what it means to save and revitalize the Cherokee language. He spoke it as a child, lost much of his daily use as a public school student, but years later he was determined to make it part of his life.
The 1000th episode of "Cherokee Voices, Cherokee Sounds," Sixkiller said, was "kind of like a regular program."
"Just an elder interview, Cherokee songs, traditional stories and just the news and teaching Cherokee words," he said.
Prior to the pandemic, interviews with Sixkiller elders were conducted in Cherokee communities on the reserve.
"I had a great time with the elders because I can relate to them," Sixkiller said. "There are a lot of stories like how I grew up. I grew up with us nine in the family, no running water, no electricity and all that sort of thing. We could hardly get into town every now and then. So we would stay home and play around the house, you know. Many of the stories of the elders are something similar.
Sixkiller, who said he learned English around the age of 5 or 6, noted that interviewing elders was sort of a reintroduction to Cherokee words lost over the years.
"When I grew up around Jay, I tell people, when I was going to school, I started using (the Cherokee language) less and less over time because there was no not a lot of speakers my age that I was hanging out with, "he said." We could all speak Cherokee. But as far as conversation goes, we haven't. So there are words that I forgot to say. When I started this program, when I started interviewing elders and heard a word that I couldn't even pronounce, I had to go back and listen to the cassette.
Sixkiller learned to read and write Cherokee in 2001.
"I finally said I was going to learn, and I prayed about it and asked the Lord to help me and I learned it," he said. "I'm grateful for this because I write whatever I want now in Cherokee and read whatever I see in Cherokee."
Sixkiller has said he plans to retire from the show at age 70.
"But I don't know yet," he said. "I could go on to 85, who knows."
"Cherokee Voices, Cherokee Sounds" can be heard on Tahlequah's KEOK 102.1 FM at 8 am every Sunday; and KTLQ 1350 AM and 96.3 FM at noon Sunday and again at 5 p.m. Wednesday. Listeners in the Vinita area can tune into KGND 1470 AM at 9 a.m. every Sunday. In Bartlesville, the show airs on KWON from 2:00 p.m. to 9:00 a.m. Sunday; and in Claremore, on KRSC 91.3 FM at 8 a.m. Saturday and again at noon Sunday.
For more information, call 918-453-5000, email [email protected], or visit cherokee.org/cherokee-voices-cherokee-sounds.
[ad_2]