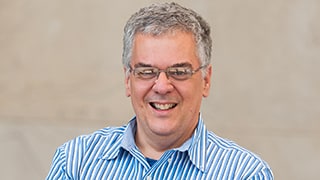 The professor appears on the MLB Network radio show
Professor John Saccoman, Ph.D., Professor of Mathematics and Chair of the Department of Mathematics and Computer Science at the College of Arts and Sciences, appeared on the MLB Network Radio Pin up Behind the Numbers: SABR Baseball Style to SiriusXM On Saturday.
Author of a biographical article on Gil Hodges which appears on the Society of American Baseball Research (SABR) website, Saccoman spoke about the famous player's recent election to the Baseball Hall of Fame during the interview on MLB Network Radio. Gil Hodges was a longtime first baseman for the Brooklyn/Los Angeles Dodgers and manager of the Mets when they won the 1969 World Series.
"It's a happy time and his election is long overdue," Saccoman said. "He has received more total votes over the years than any other nominated or inducted player, but has never been elected until now."
Saccoman has written several books on sabermetrics, the empirical study of baseball. Sabermetrics allows, in a team sport where player performance depends on others on the field, to "divorce context to see an individual player's contribution," Saccoman explained. He also presented several times at the SABR, and Hodges' article appeared in books about the 1947 Dodgers and the 1969 Mets.
"When I started to analyze, I was convinced that Gil Hodges should have already been elected," Saccoman said. "He had done his part on the pitch and as a manager, so I had to plead his case."
Beyond counting numbers, Saccoman grew up with the Mets when Hodges was the team's manager and came from a family of Dodgers fans, so his connection to Hodges was cemented at a young age.
Behind the Numbers: SABR Baseball Style airs weekly throughout the year on MLB Network Radio and examines and interprets the crucial role statistical analysis plays in baseball today. It is moderated by Vince Gennaro, former chairman of the SABR board of directors and thought leader in the field of baseball and sports analysis.
If you missed the original broadcast, the show with the Saccoman interview is available on demand for subscribers nationwide on the Sirius XM App.