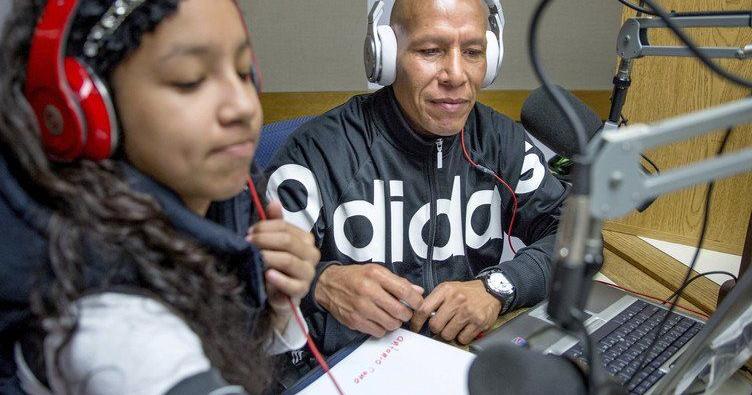 The radio program features Latin music | Local News
MANKATO — It's one minute before noon and Junior Cano is getting ready for his Saturday afternoon routine.
He adjusts his headphones, checks his watch, then turns on a microphone in a radio booth on the Minnesota State University campus, and Cano's all-Latin music program hits the airwaves. For two hours, his enthusiastic voice announces the taped selections being played for his southern Minnesota audience.
From the station ID to its signature, the broadcast is in Spanish.
"Dos por Uno" has been a Saturday afternoon staple on KMSU for over 10 years, with Cano as a volunteer host.
"I can play rap, once in a while I play music from the 60s. You might hear 80s or 90s or contemporary… It's like the weather… it changes," he said. -he says.
Cano grew up in California and is bilingual. His favorite genre of music is "mana" – a rock style originating from Guadalajara, Mexico.
The show's playlists include canciones romanticas and polcas, a kind of cousin of early New Ulm music.
"My mind is on everybody, my listeners asking me to play a song," Cano said.
He has a good idea of ​​who is there and where they are when asked to phone the station.
"In the summer, people have barbecues. So they call me from the park," he said.
Cano wants his show to be distinct, not a copy of another DJ's style.
"I love it when someone calls and says, 'I like your show, you got credit. I want to be myself. When you do something that doesn't come from you, it doesn't look real. You have to be creative," he said.
"Some of his music reminds me of my father's music. It's nice. It brings back memories. This music is for everyone. Everyone can enjoy it," said Ramiro Yinan, who has been running the controls since the second studio cabin.
An electrical engineering graduate from MSU, Yinan works for a handful of shows at the station.
Abby Cano is the third member of the early Saturday afternoon radio crew. Junior showed his daughter how to be a radio presenter in hopes that she will one day take over. One of the tasks assigned to the 11-year-old is answering calls.
"People call and they tell me what they want to play," Abby said.
The sixth grader's interests include dancing and listening to the singers most popular with his Franklin Elementary classmates.
"First thing in the morning is 96.7 (a radio station in Mankato that plays the best hits). We have no choice, we have to listen," Junior Cano joked about weekday car trips with his daughter.
On her Saturdays off the show, she usually listens to her father from home with her mother, Maria.
Three generations of the Cano family live in the Mankato region.
Cano's father is a frequent caller who usually requests Tejano music. Antonio Cano is one of the listeners who speaks Spanish most of the time; however, the radio show has fans who use English as their first language.
"The taxi drivers have been calling to say they're enjoying the beats of the songs," Junior Cano said.
"Dos por Uno" is followed by "Clandestino" which has held the 2-3 pm timeslot on Saturdays since September 2012. The show and a song by Manu Chao share the same name.
Jose Barriga's show usually begins with discussions of current affairs in Latin America and world news. The show also features music and interviews with people who have impacted the Latino community, locally and internationally.
'Radio Machin' is the next stop, then 'Enfoque A La Comunidad' – the last show in the Spanish lineup.
For more than 15 years, KMSU has offered six hours of programming in Spanish each week.
In 2009, the station received a Pathfinder Award, a local honor for individuals and organizations that have shown leadership in promoting equal treatment, human rights and non-violence. The radio station has been recognized for its commitment to programming that spreads the message of diversity.
Marilee Rickard, a former station manager, worked with several people in the community who wanted to have this content, said Jim Gullickson, current KMSU station manager.
"I saw the need for it and thought it would continue," Rickard said.
At one point, the Saturday lineup included a show that provided information in Spanish on health-related topics.
"The volunteers (advertisers) really wanted to be part of it. I remember a volunteer drove up from Blooming Prairie.
"It doesn't surprise me that he (Cano) is still putting on a show," she said.
Gullickson said he initially had some doubts about devoting six hours to Spanish-language broadcasts. He didn't know if anyone was listening there.
"I was very happy that I was wrong," Gullickson said.
Escucha KMSU en vivo!/Listen to KMSU live
www.mnsu.edu/kmsufm/
89.7 FM – "The Maverick" from the MSU campus.
91.3 FM—Austin.
The station's fall pledging campaign is ongoing through Friday. To make a request or pledge, call 507-389-5678.